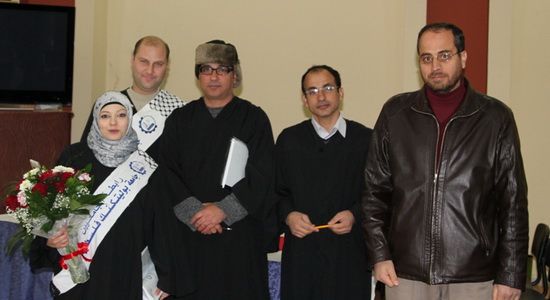 In continuation of the series of scientific thesis examinations for the Joint Biotechnology program between Palestine Polytechnic University and Bethlehem University, student "Dalia Abu Issa" successfully defended her thesis on the 26th December 2013. 
Her thesis was titled: "Cloning and Sequence Characterization of Phytase (PhyA) Gene from Aspergillus niger Strain 103" and was completed under the supervision of Dr. "Fawzi Al-Razem". The examination committee consisted of Dr. "Nasser Al-Shouli" from Palestinian National Center For Agricultural Research - NARC as an external examiner and Dr. "Rami Arafeh" from the Biotechnology Research Center (BRC), Palestine Polytechnic University as an internal examiner.
The student provided a presentation of the results of his research conducted in the laboratories of the BRC. Based upon thorough discussion with the student, the committee deliberations resulted in the decision that the student was worthy of a master's degree in biotechnology.
Therefore, The Biotechnology Research Center (BRC) staff congratulates "Dalia Abu Issa" and her family and wish him continued success in her scientific career.
Published date:
Thursday, December 26, 2013 - 15:00