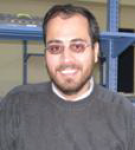 Address:
Associate professor
yashhab@ppu.edu
Abu-Rumman Campus - 4Th Floor - Room 404
Tel : + 972-2-2235505 Ext: 140
Fax :+ 972-2-2231921
Research Interests:
Our lab has two major research interests:
Study the molecular epidemiology and virulence factor profile of bacterial pathogens that affect livestock in Palestine. Our main objectives are to gain more insights on the molecular evolution of veterinary pathogenic bacteria and the zoonotic potential of their virulence and antibiotic resistance genes. In addition we aim at developing home made bioinformatic tools to enable the identification of bacterial virulence genes, which might be used for designing new vaccine.
 
As a continuation of my postdoc research, I currently work to accomplish the development of an online knowledgebase for caspase substrates. The system contains an updated and comprehensive database of all known caspase substrates as well as some home-made bioinformatics tools for caspase substrate prediction.
Research Projects:
Molecular characterization of virulence genes and antibiotic resistance profiles associated with APEC strains isolated from broiler flocks in Palestine
Screening for genetic markers that can be useful to develop novel diagnostic tool to distinguish between field virulent stains and Brucella melitensis Reve1 vaccine.
Developing a new bioinformatic tool to perform high-throughput analysis and comparison of bacterial proteoms.
Analyzing the human proteome to search for novel caspase 3 targets using bioinformatic software that was developed in our lab and it can predict caspase 3 cleavage sites in protein sequence.
Publications:
Muneef Ayyash, Hashem Tamimi, Yaqoub Ashhab. Developing a Powerful In Silico Tool for the Discovery of Novel Caspase-3 Substrates: A Preliminary Screening of the Human Proteome. BMC Bioinformatics 2012, 13:14. PubMed. Download
Yaqoub Ashhab. Bioinformatics and Genomics Sciences in the Middle East; Opportunities and Challenges. New life Sciences; Future Prospects.  Biovision 2010 Proceedings. Bibliotheca Alexandrina. 
Muneef Ayyash and Yaqoub Ashhab. Developing a New Bioinformatics Tool That Predicts Caspase-3 Cleavage Patterns. 2nd Palestinian International Conference on Computer and Information Technology. PICCIT 2009.
Czerninski R, Krichevsky S, Ashhab Y, Gazit D, Patel V, Ben-Yehuda D. Promoter hypermethylation of mismatch repair genes, hMLH1 and hMSH2 in oral squamous cell carcinoma. Oral Dis. 2009 Apr;15(3):206-13. PubMed. Download
Nachmias B, Mizrahi S, Elmalech M, Lazar I, Ashhab Y, Gazit R, Markel G, Ben-Yehuda D, Mandelboim O. Manipulation of NK cytotoxicity by the IAP family member Livin. Eur J Immunol. 2007 Dec;37(12):3467-76.  PubMed. Download
Nachmias B, Lazar I, Elmalech M, Abed-El-Rahaman I, Asshab Y, Mandelboim O, Perlman R, Ben-Yehuda D. Subcellular localization determines the delicate balance between the anti- and pro-apoptotic activity of Livin. Apoptosis. 2007 Jul;12(7):1129-42. PubMed. Download
Ferrer-Francesch X, Caro P, Alcalde L, Armengol MP, Ashhab Y, Lucas-Martín A, Martínez Cáceres EM, Juan M, Pujol-Borrell R. One-tube-PCR technique for CCL2, CCL3, CCL4 and CCL5 applied to fine needle aspiration biopsies shows different profiles in autoimmune and non autoimmune thyroid disorders. J Endocrinol Invest. 2006 Apr;29(4):342-9.  PubMed .
Colobran R, Adreani P, Ashhab Y, Llano A, Esté JA, Dominguez O, Pujol-Borrell  R, Juan M. Multiple products derived from two CCL4 loci: high incidence of a new  polymorphism in HIV+ patients. J Immunol. 2005 May 1;174(9):5655-64. PubMed. Download 
Lossos A, Ashhab Y, Sverdlin E, Amir G, Ben-Yehuda D, Siegal T. Late-delayed cerebral involvement in systemic non-Hodgkin lymphoma: a second primary tumor or  a tardy recurrence? Cancer. 2004 Oct 15;101(8):1843-9. PubMed. Download
Nachmias B, Ashhab Y, Ben-Yehuda D. The inhibitor of apoptosis protein family  (IAPs): an emerging therapeutic target in cancer. Semin Cancer Biol. 2004 Aug;14(4):231-43. Review. PubMed. Download
Shteper PJ, Zcharia E, Ashhab Y, Peretz T, Vlodavsky I, Ben-Yehuda D. Role of  promoter methylation in regulation of the mammalian heparanase gene. Oncogene. 2003 Oct 30;22(49):7737-49. PubMed. Download
Nachmias B, Ashhab Y, Bucholtz V, Drize O, Kadouri L, Lotem M, Peretz T, Mandelboim O, Ben-Yehuda D. Caspase-mediated cleavage converts Livin from an antiapoptotic to a proapoptotic factor: implications for drug-resistant melanoma. Cancer Res. 2003 Oct 1;63(19):6340-9. PubMed. Download
Dominguez O, Sabater L, Ashhab Y, Belloso E, Pujol-Borrell R. AU-differential display, reproducibility of a differential mRNA display targeted to AU motifs. Methods Mol Biol. 2003;226:225-36. PubMed. Download
Sabater L, Ashhab Y, Caro P, Kolkowski EC, Pujol-Borrell R, Domínguez O. Identification of a KRAB-containing zinc finger protein, ZNF304, by AU-motif-directed display method and initial characterization in lymphocyte activation. Biochem Biophys Res Commun. 2002 May 10;293(3):1066-72. PubMed. Download
Ashhab Y, Alian A, Polliack A, Panet A, Ben Yehuda D. Two splicing variants of a new inhibitor of apoptosis gene with different biological properties and tissue distribution pattern. FEBS Lett. 2001 Apr 20;495(1-2):56-60. PubMed. Download 
Ashhab Y, Dominguez O, Sospedra M, Roura-Mir C, Lucas-Martín A, Pujol-Borrell R. A one-tube polymerase chain reaction protocol demonstrates CC chemokine overexpression in Graves' disease glands. J Clin Endocrinol Metab. 1999 Aug;84(8):2873-82. Erratum in: J Clin Endocrinol Metab 1999 Dec;84(12):4361. PubMed. Download 
Dominguez O, Ashhab Y, Sabater L, Belloso E, Caro P, Pujol-Borrell R. Cloning of ARE-containing genes by AU-motif-directed display. Genomics. 1998 Dec 1;54(2):278-86. PubMed. Download 
Sospedra M, Tolosa E, Armengol P, Ashhab Y, Urlinger S, Lucas-Martin A, Foz-Sala M, Jaraquemada D, Pujol-Borrell R. Hyperexpression of transporter in antigen processing-1 (TAP-1) in thyroid glands affected by autoimmunity: a contributing factor to the breach of tolerance to thyroid antigens? Clin Exp Immunol. 1997 Jul;109(1):98-106. PubMed. Download 
Sasson S, Ashhab Y, Melloul D, Cerasi E. Autoregulation of glucose transport: effects of glucose on glucose transporter expression and cellular location in muscle. Adv Exp Med Biol. 1993;334:113-27. Review. PubMed.